Mazda6 Accessories for Utility and Personalization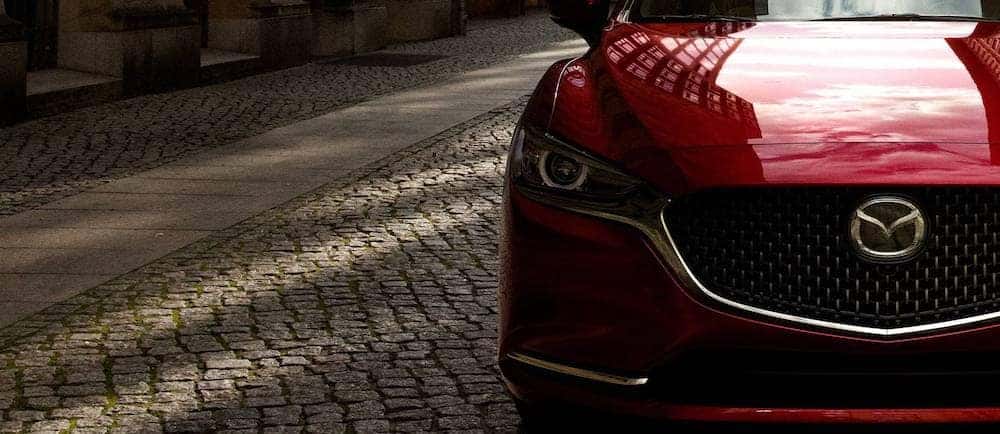 Because of its impressive efficiency and fun driving dynamics, the Mazda6 is a common sight around the roads of Aurora and Plainfield, and with good reason. Fortunately, you can make this midsize sedan even more dynamic, versatile, and stylish by adding some genuine Mazda6 accessories. Here's a peek at what kind of accessories Mazda offers for this model.
Mazda6 Interior Accessories
The Mazda6 can be had with a variety of accessories to its interior that are designed enhance the versatility of your cargo area, protect upholstery, add stylistic flair, and help you be prepared for an emergency.

Cargo Accessories
Cargo Net – Keep your cargo secure, even if your only using a small portion of the space.
Collapsible Cargo Carrier – This expandable cargo carrier can help you keep your trunk organized — and when it's not in use, it's easy to fold up and stow away.
Carpet Cargo Mat – This mat is designed to protect the carpeting of the cargo area from dirt and debris, which in turn can enhance the resale value of your Mazda6.
Cargo Tray – Also designed to keep the cargo area clean, and can conveniently be cleaned with soap and water.
First Aid Kit – The FDA-compliant first-aid kit includes supplies such as gauze pads, bandages, adhesive tape, and antibiotic ointment.
Roadside Assistance Kit – Includes a flashlight, reflective triangle, tire pressure gauge, rain poncho, emergency blanket, and more to help you be prepared.
Cabin Accessories
Windshield Sunscreen – Works to keep the cabin of your Mazda6 cool, with a stylish rendition of the Mazda logo on the outside.
Alloy Pedals and Footrest – Functionally, it gives you improved pedal grip; aesthetically, it gives you Mazda6 a gutsy look.
All-Weather Floor Mats – Keep the carpet of the vehicle clean with these heavy-duty, waterproof floor mats.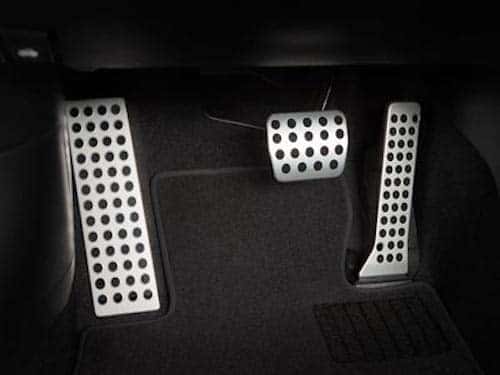 Mazda6 Exterior Accessories
The outside of your Mazda6 can be augmented with a variety of genuine accessories designed to protect it from scratches and thieves as well as reduce wind noise and add some unique visual touches.
Accessories to Safeguard Your Mazda6
Car Cover – Custom-fitted weather-resistant StormProof® works to protect the finish of your Mazda6.
Car Cover Lock – Designed to protect your car cover from both thieves and strong winds.
Wheel Locks – The unique lug pattern is designed to make them tamper-proof, guarding your wheels against theft.
Front and Rear Splash Guards – These black-finished splash guards can help protect the finish of your Mazda6 from rocks and other debris.
Rear Bumper Guard – This stainless steel accessory helps to protect your car's finish from scratches while loading and unloading the cargo area, and it also adds a bit of shine.
Style and Performance Accessories
Rear Spoiler – Enhances the sporty look of the Mazda6 while adding aerodynamic advantages.
Moonroof Wind Deflector – Made of UV- and scratch-resistant acrylic, this Mazda accessory allows for use of the moonroof with minimal wind noise.
Side Window Deflectors – Similar to the moonroof wind deflector, these minimize wind noise while you enjoy the fresh air.
Enjoy Mazda Service Coupons and More at Napleton Mazda of Naperville
When it's time to take your Mazda6 on a ride away from Lisle, you can do so in style with some of these genuine Mazda accessories. Take a look at our parts and accessories coupons to help you save money. If you have any questions, or you want to compare the 2019 Mazda6 vs. Honda Accord, please contact us today!
Why Buy From Napleton Mazda of Naperville?
We give drivers throughout Chicagoland plenty of reasons to shop with us, including:
Our Cruise Online Car-Buying service puts you in control — you can complete the entire purchase process without ever visiting the dealership, and we can even delivery our new vehicle!
Our full service and detail center can get your Mazda6 looking and functioning like new, before and after you add your own accessories!
Your satisfaction is our top priority — just take a look at our online reviews to get an idea of what that means!
More About Accessories From Napleton Mazda of Naperville
Because of its impressive efficiency and fun driving dynamics, the Mazda6 is a common sight around the roads of Aurora and Plainfield, and with good reason. Fortunately, you can make this midsize sedan even more dynamic, versatile, and stylish by adding some genuine Mazda6 accessories. Here's a peek at what kind of accessories Mazda offers…

Mazda3 accessories provide the opportunity to customize everything from exterior appearance to interior style. Adding a few is a great way to make your new cary our own, too! Here are just a few of the options available. Order Accessories Electrical Mazda3 Accessories Mazda Mobile Start: Control vehicle settings remotely through your smartphone. Start before…

Order Mazda Accessories There are plenty of Mazda accessories available to personalize and enhance your chosen Mazda SUV, let's check out some of the most popular, Mazda CX-3 accessories, Mazda CX-5 accessories, and Mazda CX-9 accessories. Mazda SUV Accessories: Technology Rear Parking Sensors: Mounted discreetly along the lower bumper, parking sensors warn you of rear…